So this is part two of a series I'm working on.  The plan is to post one part each week.  You can find the first part here, although you can (probably) follow without it.
Fred
When I walked in the door, of course he had to be there.  "Hi Joe!" I called out, trying to act casual.
He turned around, giving me a glare with dark blue eyes.  "Hi."
I started to feel my hands sweat, just like they always did when he was around.  It wasn't just because he hated me.  It was because he knew the truth.  He knew what happened last year and how it was my fault.
"Joe!  It's so lovely to see you," my mom said, giving him a great big smile.  Joe didn't bother to smile back, or even look her in the eye.
"Yeah… I didn't expect you to come," I said, which was true.  He stopped coming to any events last year.  After the school told him he didn't have the credits to graduate, he hardly even attended.  So I couldn't figure out why he showed up at the graduation of a bunch of people he didn't like.
Joe's expression when he looked at me made me want to bolt for the door.  "Well, we've known each other for an awfully long time.  Least I could do was come."
"That's right!" my mom said, not picking up the hint that Joe and I both wanted to end the conversation as soon as possible.  That or she pretended not to.  "You and Fred were in kindergarten together."
Drew yawned.  "I don't care about ancient history, mom.  Can we just go?  I want to get my tie off."
"Young man, you will not have that attitude," dad scolded.
I checked my watch.  "Right… umm… much as I would love to sit and talk about old times, I better be heading up.  See you around."
I turned and started up the steps two at a time, trying to ignore Joe's glare following me.  I'd forgotten that he was in my kindergarten class.  Our school was tiny back in those days.  There were only four people in my class—Joe, Ruth, Annemarie, and me.  We were all best friends back then.  Gosh, how did we get here?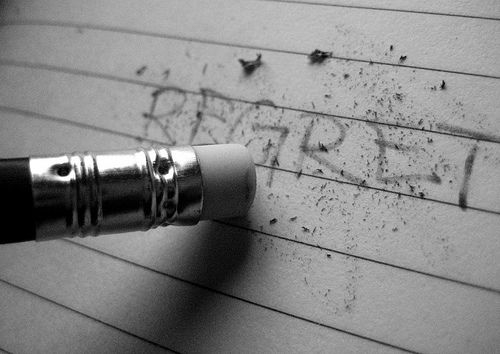 Joe
didn't expect you to come.  'course fred would say something like that.  no one'd expect the school looser to put his pants on.  forget coming to graduation.  i didn't say anything else to him, his kid brother, or his parents as I pushed down the hall.
i swear, i really would've punched him if i could've beat him in a fight.  or if it would've done a thing.  'cause right then, I couldn't think of one single thing worse than having to listen to that moron give some phony speech.  'specially if he fed us a load of crap about how much he loved school.
if there was something i couldn't stand worse than fred, it was hearing people blabber about the holiness of our stupid international christian school.  there was a time when i actually believed that stuff.  back when i was a dumb little kid, but i knew better now.  i knew what lies were.  this place had taught me.
here's the thing.  everyone has to learn at some point that life isn't a pretty little fairy tale.  that there are more evil stepmothers than fairy godmothers, and when you do find a fairy godmother, she'll lie to you and stab you in the back.  just like anyone else.  everyone has to learn that eventually.  it's one of the stupid parts of life we all put up with.  but that doesn't mean that everyone doesn't hate the person—or the place—that teaches that lesson to them.  that's why i would always hate jude christian academy.
while i plopped down in my seat and pretended to read the program, i wondered if anyone'd mention all that happened a year ago.  then I almost started laughing like a phycho.  'course no one would.  'cause it was the truth, and everyone hates the truth.  'specially when it hurts as much as that did.
Annemarie
When Mr. Jacobson stepped on the stage to address the crowd, I expected all the old emotions to come back. 
Hot, boiling anger. 
Searing pain. 
Death wishes. 
Then I felt relieved to see that not a single one could come.  Only cool, refreshing forgiveness washed over me, the peace that only God could give.  I used to blame Mr. Jacobson for my Choice, but now blame felt foolish and childish, something to leave in the old world.
            Instead of thinking about my Choice, I thought about how happy I was for my old friends.  How grand it must have been to teeter on the brink of the rest of their lives, to have everything that I had given up.  Music played and they walked on the stage.  Although I couldn't regret, I still felt that I should have been there, experiencing this with them.
            I wished I could have told them I was here. 
I was watching. 
I still cared. 
But they would never know I was there. 
Ruth
Every year at graduation, I wondered how I would feel when it was my turn to wear these funny outfits and hats.  I thought I'd feel so grown- up, so sure of my future.  Now that I would get my diploma within the hour, I still felt like a kid.  And I had no idea what I was going to do with my life.  (Well, I knew what college I was going to, but I had no clue what to study there.)
I smiled in front of the crowd, singing a song with my class.  It was hard not to wave back to my little brother, who was sitting in the middle with my family.  (All ten members, minus me)  To avoid looking at him, I searched for other familiar faces.  I found Joe watching us, which made me happy and sad at the same time.  I wanted him there, but I wanted him on the stage with us.
It was so unfair that Mr. Jacobson wouldn't let him graduate with us.  I knew Joe failed his classes last year, but all of our grades dropped.  If my GPA hadn't already been high, I would have failed, too.  And Joe's suspension (which was unfair, too long, and unnecessary) had a lot to do with those grades.  In a way, I felt like a little bit of a traitor celebrating today.  It almost felt like graduation shouldn't be happening, or that I should have been excluded like Joe.  (It would have been fair.)
As I kept smiling and singing, I caught sight of Annemarie's mom.  It kind of killed me inside to see her.  I didn't think she'd be able to come, after all she'd been through.  But she was there, smiling through the tears.  If she could do this, then I could too.  I forced a braver smile on my face and hit the high note.
But everything just felt so empty.  I wanted to grab the microphone and scream, "This isn't right!  Just stop pretending!"  Sometimes people say there's an elephant in the room.  I felt like there was a giant, stinking corpse of a dead elephant that everyone was trying to step over.
I swallowed the lump in my throat.  Nothing felt right without Annemarie there.